300 WATT POWER INVERTER
300 WATT POWER INVERTER
Home
>
REUK Shop
>
Renewable Energy System Parts
Convert 12V DC battery power into 230 AC to power portable televisions, computers, video recorders etc. 300 Watt power rating - peak power 600 Watts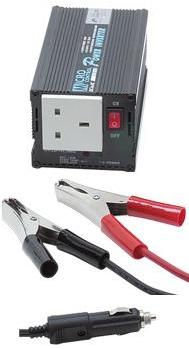 (1-5:
£29.99
each, 5+:
£28.99
each)
OUT OF STOCK
Additional Information
300 Watt Power Inverter
This high quality 300 Watt
Power Inverter
is used to power 230 Volt AC (mains) equipment from a
12V battery
or
battery bank
. This is an essential component of any serious
renewable energy
set up since it enables televisions, DVD players, PC equipment, laptop computers and much more (up to a total of 300 Watts power) to be powered renewably.
Included with the
inverter
are both a pair of
crocodile clips
for direct connection to the terminals of a battery/battery bank AND a standard
cigar lighter plug
so the inverter can be used in a motor car via the cigarette lighter socket.
Inverter Performance
This
50Hz modified sine-wave
power inverter offers super high performance with a conversion efficiency in
excess of 90%
! The frequency of output AC electricity is highly stable and so it can be used with power sensitive devices.
The inverter has a power rating of
300 Watts
, but it can cope with short lasting surges (which occur when for example a television is first switched on) of up to
600 Watts
.
In
standby mode
when no devices are being powered by the inverter, it draws a
standby current
of under 0.36 Amps. (Obviously the inverter should be switched off when not in use for more than a few minutes in order not to waste stored battery power.)
The inverter will operate from DC electricity inputs from
10 to 15 Volts
, so even when the batteries are being heavily charged (at up to around 14V max), the inverter will still provide
AC power
when required.
Inverter Safety
For your safety, this
power inverter
offers output short-circuit protection, input polarity protection (via a fuse), high DC input voltage protection, and also has a low battery warning alarm and automatic low battery shutdown. The battery alarm is triggered when the battery voltage falls to 10.5V, and power to the load is shutdown if the battery gets down to 10.0V in order to protect the drained battery from permanent damage.
The high efficiency of the inverter and the
fitted internal fan
helps to keep the temperature down, however overload and over temperature protection is provided to protect the inverter from damage.
Using the Inverter
At one end of the power inverter is a standard
UK 3-pin socket
and the main inverter on/off switch. A device such as a television can be plugged directly into the inverter, or alternatively a 2-, 3-, or 4-way extension lead can be plugged into the inverter and a number of devices* plugged in at the same time.
*
Remember that the total continuous power consumption of the connected devices must be 300 Watts or below. A laptop computer for example uses around 100 Watts, and a portable colour television around 80 Watts. A microwave uses around 1,000 Watts and so could not be powered by this inverter.
Dimensions
This 300 Watt power inverter measures just
163 x 90 x 75mm
making it a perfect portable (glove box) solution as well as not taking up much space in a
renewable energy
system.
Related REUK.co.uk Articles
Find out about the uses of power inverters in renewable energy generation